If there's something that every home in Connecticut should have, that's a rain gutter system. Rain gutters play an important role. They're an essential part of roof maintenance. They keep water away from your house. Without rain gutters, water runs down from your roof and damages your foundation over time. Choosing the right and the best rain gutters for your house will help you to make the water rain flows down properly. Molds grow in your home when moisture seeps in. In this article we will give you some guide on how to choose the best rain gutters for your home.
No homeowner wishes for more maintenance problems.
It's easy to disregard the work rain gutters provide. If you're like most people, chances are, you realize you need rain gutters when it's too late. Make sure you install the best rain gutters this year. Before you call a roofing contractor to help, read this guide.
Here, you'll find 5 common rain gutter materials
Choosing the Best Rain Gutters: 5 Common Materials
1. Vinyl Gutters 
A lot of homeowners pick vinyl rain gutters. They can afford these gutters. Compared to most gutter materials, vinyl comes at a cheaper price. Since they're made of PVC plastic, this means that they won't corrode. Though vinyl gutters can be installed with ease, we advise that you don't install them by yourself! A DIY job is risky, which is why we have licensed roofing contractors.
Though vinyl gutters come with outstanding features, they also have downsides. If you personalize and look for specific colors, there's not a lot to choose from. In cold weather, vinyl gutters tend to age and get brittle.
2. Copper Gutters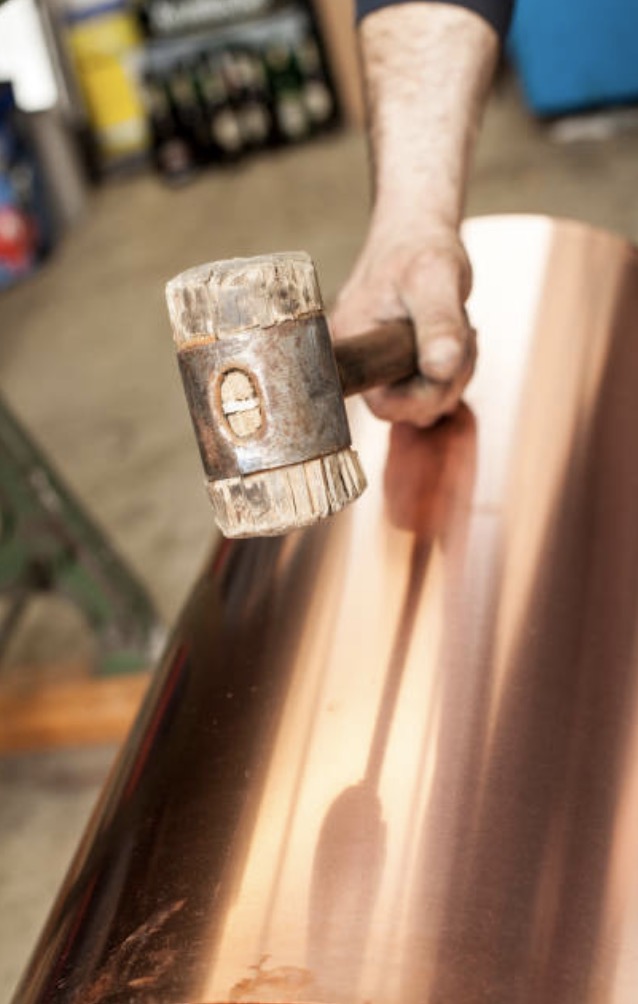 What makes copper gutters the best rain gutters? They win because they're strong. In fact, copper gutters exceed aluminum gutters in terms of strength. Another advantage of copper gutters is that they resist growths like algae and fungi. Since they retain paint, your home stays beautiful for many years to come.
Greenish hues appear over time. This indicates that your gutters have started to age. Copper gutters are best installed by an experienced contractor. They require proper installation techniques and the right set of tools. If you're after elegance, class, and appeal, you won't go wrong with copper gutters.
3. Galvanized Steel Gutters
These gutter materials retain their shine for longer periods of time. They don't rust and are low-maintenance. Homeowners often compare galvanized steel to aluminum because both materials are similarly priced. But in terms of strength, galvanized steel gutters are the better choice.
You have the option to choose galvanized steel gutters in their seamless forms. Seamless options drain rainwater better than their counterparts.
4. Aluminum Gutters
Like vinyl gutters, aluminum gutters help you save money. They come at friendlier prices, which makes them an outstanding choice if you can't afford copper gutters. Many sources may say that aluminum gutters are great for do-it-yourselfers. We discourage you from installing aluminum gutters yourself. Unless you're willing to risk making mistakes and end up spending more, you better get a roofing contractor.
In comparison to steel and copper gutters, aluminum gutters are more likely to deform. The reason is that they're very lightweight. Lighter materials lag behind in terms of durability.
5. Wood Gutters
Ahh, wood gutters. Older houses have them. When manufacturers introduced newer forms of gutters like plastic, most homeowners stopped using wooden versions. Wood gutters can be a great choice if you seek to add a classic appeal to your home. They stand out because of their historic, old-fashioned appearance.
Despite their beauty, wood gutters don't effectively propel rainwater. In terms of functionality, these are not the best rain gutters. They have a rough interior surface that creates friction. To prevent wood gutters from cracking, oil the interior surface regularly. Mineral oil works.
Seamless vs Sectional Gutters
Congratulations! If you reached this far, it means you've started to choose which gutters to install. In this section, we're going to introduce two classifications of gutters. These are seamless and sectional gutters.
Sectional Gutters
As the name implies, sectional gutters are gutters in sections. It's easy to assemble the individual sections to form a continuous gutter. Assembling sectional gutters is like putting Lego pieces together. Despite the ease of installation, sectional gutters carry a disadvantage. Because they have many joints, these weak areas are likely to leak and clog. The jointed areas many also look odd and irregular.
Seamless Gutters
When it comes to pricing, seamless gutters cost more. But one can easily justify the cost because of the benefits they promise. They come in longer sections and have fewer joints. Seamless gutters can be made of various materials. Maybe you're thinking of investing in sectional gutters because they're cheap. But you'd want to spend a bit more on something that outlasts cheaper counterparts. At the end of the day, quality trumps price.
Wrapping Up
What's not to love about rain gutters? This article shows you an aspect of home gutters - choosing the best rain gutters based on material and type. Making sure you hire a trusted, licensed, and experienced roofing contractor completes the equation.
Slavin Home Improvement is an expert at rain gutters. Here, we offer seamless gutters that eliminate leaks and prevent mold and damage to your home. If you live in Connecticut and need a new rain gutter system, get in touch! Call us at +1 860-272-6904.